Well hello out there, happy Friday to you all.
Today I am thrilled to share my very first project for All About Scrapbooks and every Friday morning you can find me here or over at All About Scrapbooks Blog sharing my latest creation and generally hanging out.
My first reveal I have started with what I know best. Yes it's all about our boy!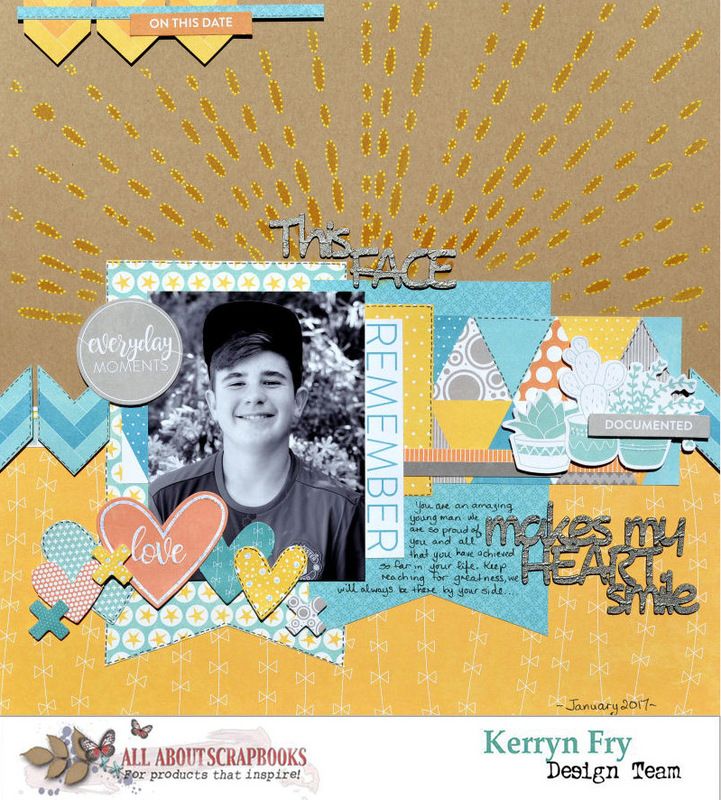 The colours in
Jillibean Soup 'Hardy Hodgepodge
'
were the big attraction for me.
Totally suited the gorgeous photo and our boy's cheery disposition.
The matching Pea Pod Parts in the collection made embellishing the page so easy.
I've doodled in random places with a black pen, added some dimension using plenty of foam
and you will hopefully spot the touches of diamond Stickles
The title, of course, is chipboard and 2 Crafty all the way.
This face makes my heart smile It was gessoed, embossed with a script stamp
and then painted using metallic paint.I decided to split the title into two pieces to balance my page.
Thanks for visiting today, see you next week